IN:YCUP
Inland Northwest Young Credit Union Professionals

Mission
The Inland Northwest YCUP works with young credit union professionals in the Inland Northwest to provide real world skills that help move their careers, credit unions and our industry forward.  We focus on leadership, education, advocacy and putting our philosophy into action.  We work together to build and sustain a strong network of young credit union professionals that are ready and willing to step up when their members, their credit union or their community calls.
Our current YCUP Board consists of:
Linda Crane – President, Global Credit Union
Ed Bedell – Vice President, Spokane Federal Credit Union
Mellie Price – Communications, Global Credit Union
Brittany Diemert – Secretary, BECU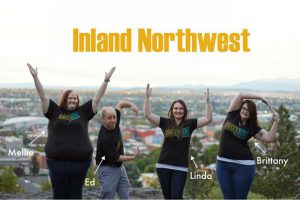 Together we embrace and learn about the following pillars:
Leadership – Our leadership events and trainings are aimed to help you understand leadership in our industry, among your peers and in our community. Our goal is to help you exercise your best leadership in the way that is most meaningful to you.   
Education – Education can be fun. Whether we know it or not, we are always learning. In our industry and communities, we have a great opportunity to embrace education for ourselves and the many members that we interact with on a regular basis. Our education events and trainings are designed to encourage learning in the area of financial wellness, credit unions and how we can use education to make an impact.
 Advocacy – Be the voice that you want to hear. Advocacy is very important to the credit union industry, and as young professionals we bring a unique perspective to help shape the direction, regulation and voice of our industry. Our advocacy events will give you the opportunity to learn about how your voice can be heard, the right messages to deliver and the best ways to follow up.
 Philosophy in Action – Maximizing the people helping people philosophy into something bigger than each of us. We will work together to volunteer, educate and share the credit union values with organizations in our community. We will work to donate our resources and talent towards the greater good and leave a lasting impression to show those in our community that we care, are #CUobsessed and that the credit union philosophy is truly a differentiator in our community.
Upcoming Events
July Social-Advocacy-Tuesday, July 17th from 6-8PM @ Scratch               1007 W. 1st Ave, Spokane, WA. Cost-$5 
August Social-Legislative Debrief
     Location: Red Lion River Inn
     Time: 5:30PM – 6:00PM Social, 6:00PM – 7:30 Program
     Presenters: Various elected officials
     Supported Organization: Guild School
September Event-Philosophy in Action-Chapter Golf Tournament
Fall Social-Community Education & Philosophy in Action-Date TBD
Winter Event-Philosophy in Action-Community Service Project-Date TBD